10 Years of Trusted Trader 2005 - 2015
Press Release: Friday 31 July 2015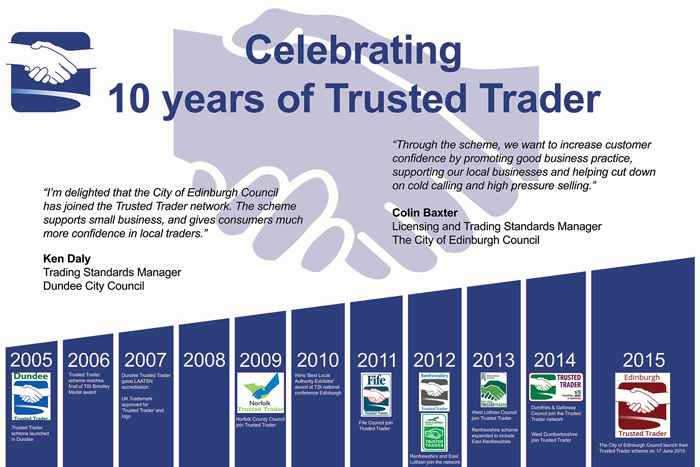 You are welcome to copy or reproduce the above image. Selecting it will open a larger better quality one. Feel free to link to it or right click and "save as".
Just over a month ago, Edinburgh Trusted Trader was launched to the residents of Edinburgh. 2015 marks a special year for Trusted Trader, as it is 10 years since the launch of the official Trading Standards Trusted Trader scheme.
Trusted Trader was launched by Dundee City Council in 2005, with a simple aim, to encourage local businesses to sign up to a code of practice that will give consumers confidence in the standard of service they expect to receive. The success of the Dundee scheme has seen it nominated for awards, and in 2007 it gained Local Authority Assured Trader Scheme Network accreditation, ensuring it confirmed with the OFT Consumer Codes Approval Scheme.
2007 also saw the UK Trademark approved for "Trusted Trader" and the logo, a recognisable symbol of consumer trust. 2009 saw Norfolk County Council join the scheme.
In 2011 Fife Council joined Trusted Trader, followed in 2012 by Renfrewshire Council, then East Lothian Council.
In 2013 West Lothian Council joined the Trusted Trader, and the Renfrewshire scheme was expanded to include East Renfrewshire.
2014 saw Dumfries and Galloway Council join the Trusted Trader network, with West Dunbartonshire Council in the process of setting up a scheme. Then 2015 saw the launch of The City of Edinburgh Trusted Trader scheme.
Trusted Trader is a Trading Standards scheme, giving consumers confidence and reassurance that traders and businesses that join a scheme are vetted by Trading Standards officers.
Follow the link to view all the Scottish schemes on the
Trusted Trader network
.