Introducing the trader review widget
News: Friday 31 March 2017
We have had requests from Traders asking if there is a way to show their Trusted Trader status and reviews on their own website. So we have come up with a review widget which will display your rating and the last two positive reviews.
Different review widget options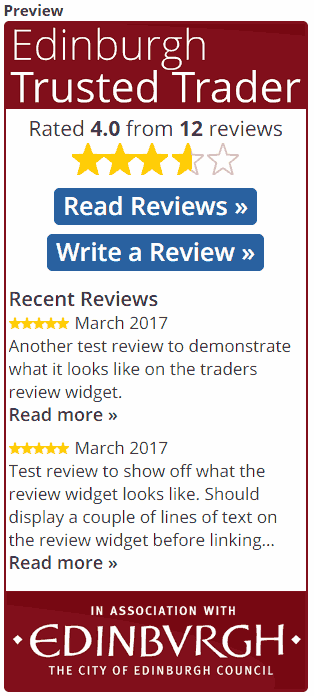 The example on the left is a preview of the largest option.
If this was displayed on a Traders website, then a website visitor would be able to select the read reviews option, which would direct them to the businesses Trusted Trader page. They would also have the ability to write a review which would again take them to the relevant Trusted Trader page.
Below is the same large review widget but the option has been selected not to show the last two reviews.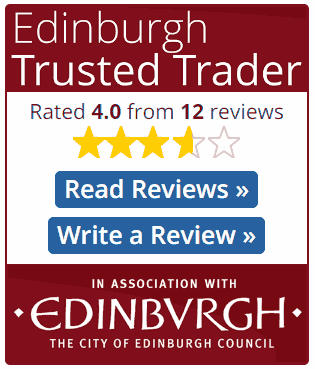 You can select from
small
(180 pixels),
medium
(250 pixels) or
large
(300 pixels) review widgets and can optionally choose to display your last two positive reviews.
Below is a preview of a medium widget as well as a small widget with and without reviews.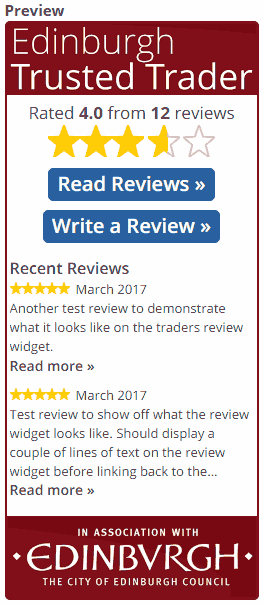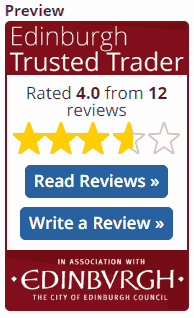 How do I get my review widget?
Any fully vetted Trusted Trader is welcome to display a review widget on their website. You can get yours by logging into your Trusted Trader
Control Panel
.
Once logged in, select the
Get your Review Widget
option as shown below.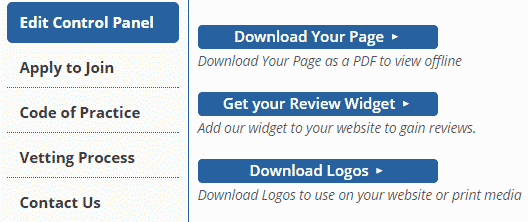 If you don't have a "Get your Review Widget" option, then please
contact us
.
How do I configure my review widget?
You simply need to decide which of the three sizes would suit your website. Then choose to either show reviews or not to show reviews on your website by selecting the tick box. Any option you change will instantly show as a fully working preview so you can see exactly how it will look and work.
How do I get the widget onto my website?
Once you have decided on your options, you simply need to copy the single line of code at the bottom of the page to the webpage on your website where you would like the review widget to show. Or just copy the line of code and email it to the person who looks after your website and ask them to add it. They will know exactly what to do with it.
Below is an example of what it looks like. If you have any problems please
get in touch
and we can try and help.

Once you have put your review widget on your website, let us know and if it looks the part we may feature it and your website in our marketing campaigns.