Musselburgh Slaters





5.0

out of

5

based on

46
reviews and feedback
Musselburgh Slaters
79 Inveresk Road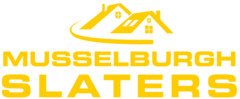 Musselburgh

EH21 7BG

0131 665 1308
Trader Categories and Services
Roofers
,
Builders
,
Property Maintenance
,
Chimney Repairs
,
Roofing Services
,
Roof Slate & Tiling
,
UPVC Fascias
,
Guttering Services
,
Emergency Roofing Repairs
,
Harling
,
Roughcasting
,
Exterior Painting
Business Information
We are a small reliable and affordable business offering a bespoke answer to all roofing and building requirements. From a single slate to a new roof, pointing to complete strip and roughcast we provide free quotes and fast friendly service all of which if fully insured and guaranteed.
Trader Map Location
Reviews and Feedback





5.0

out of

5

based on

46
reviews.
Order by:





14th July 2017
Review Comments
Replace and repair sloping roof slates, fix chimney stack: Excellent professional service. Kept me fully informed throughout the work, no change to cost/initial quote despite finding more hidden work.





11th July 2017
Value of Products/Services or Work Performed: £15,000
Review Comments
We have employed Mark over the years to undertake various work, including new builds and re-roofing the entire house. The last job involved demolishing an existing conservatory and replacing with a bespoke sunroom: Any works undertaken by Mark and his colleagues have always been to the highest standard, on time and on budget. He is extremely professional in his approach to his work. I would not hesitate in recommending him to family and friends.





6th July 2017
Value of Products/Services or Work Performed: £1,800
Review Comments
Flat roof front and back felt removed. Re-felted front and back roof: Excellent service. We had a leak on 23/12/2016. Mark came out and sealed the leakage. On 5/1/2017 he returned to completely replace the felt, needed to have this done asap as we were getting a conservatory the 2nd week of Jan.





5th July 2017
Value of Products/Services or Work Performed: £8,750
Review Comments
Complete overhaul of house and garage roofs including re-pointing of ridge, replacement of lead flashing, complete renewal of flat roofs, new rhones, installation of PVC facings on house roof and garage roof: We were very pleased by the work done by the slaters. They came out immediately when we had a leak in the lead flashing, did a temporary repair there and then. We asked for quotes for all of the work, which we got. They arrived on time, worked diligently, were always friendly and courteous. No time was wasted. We saw photos of the work at every stage and are very satisfied by the result.





2nd July 2017
Value of Products/Services or Work Performed: £2,400
Review Comments
Strip out tiles,boards, batons and underfelt from chimney to gutter. Replace rotten boards, batons and underfelt. Replace all broken tiles. Fit lead flashing round chimney and harl. Render round other chimney. Point ridge where required. Fix tiles around skylight. Clean site: Very pleased with all work done and, as said, would not hesitate to recommend.





23rd June 2017
Value of Products/Services or Work Performed: £550
Review Comments
Clad fascia of upstairs dormer front and sides with PVC. Replace missing or damaged slates. Repair rendering on chimney: All work completed as requested.