Shepherd Roofing & Slating





5.0

out of

5

based on

13
reviews and feedback
Trusted Trader since 2020
Shepherd Roofing & Slating
44 Main Street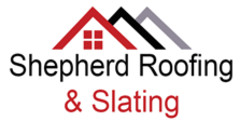 Dunshalt

KY14 7EX

01592 747209
07772 667 541
Trade Associations

Business Information
Shepherd Roofing & Slating services set the standard in Fife

We are third generation roofing contractors who have been in the trade for over 100 years

At Shepherd Roofing and Slating, we provide almost every roofing service available, and we are passionate about what we do. From small roof repairs through refurbishments, to new roof construction, we have the experience, accreditation, and skill to complete the job to a high standard every time.

With us, you can be sure of receiving expert services from tradesmen dedicated to achieving the highest standards of workmanship. We have experience working with almost every type of roofing material available, and so we're confident that if you have a roofing or slating need – we can provide a professional solution.

As a sign of our uncompromising approach to quality, we are members of the Guild of Master Craftsmen. All our tradesmen are SVQ qualified ensuring they provide an excellent service every time.
Trader Map Location
Reviews and Feedback





5.0

out of

5

based on

13
reviews.
Order by:





15th March 2023
Value of Products/Services or Work Performed: £25,000+
Ratings
Review Comments
Fantastic work. I have two large buildings. Shepherd Roofing completely replaced a large slate roof for me about 10 years ago and it has been perfect. Not a single slate out of place. This year, 2022, they replaced a full roof for me on my other building (tiles rather than slates this time) and the work was fantastic as well. I feel fortunate to know Martin and his team. Companies/contractors that do their outstanding quality of work are few and far between.
Kevin Smith






30th January 2023
Value of Products/Services or Work Performed: £25,000+
Ratings
Review Comments
I initially contacted Shepherd roofing in February 2022 to advise on some significant pitched and flat roofing work that was required on a rural cottage. Many of the issues had been ongoing since I purchased the property over 20 years ago and had only partially been resolved by x3 previous roofing companies. Shepherd roofing correctly identified these issues and provided a realistic quote for the work using the correct grades of lead, slates etc. Scheduling of the work which commenced in September was very smooth and Martin kept us continually informed on the progress of the work with updates on expected completion times. My overall impression was that he and his team took a good old-fashioned professional pride in their work and were always keen to invite me to inspect how various aspects had been tackled. I was genuinely impressed when they would occasionally redo a certain feature as they weren't entirely happy with their own workmanship! Their attention to detail was superb and I now (finally) have a roof on the property which I am confident will withstand the stormiest of weather. Visitors to the property since completion have passed favourable comments on the visual standard of the work and I have had no hesitation in praising and recommending Shepherd roofing.
David Goldie






11th May 2022
Value of Products/Services or Work Performed: £5001 - £25,000
Ratings
Review Comments
Shepherd Roofing fitted eave verges to our roof to help prevent wind uplift of slates and also a new roof ridge. Despite the house having been built only just over 10 years previously some of the original workmanship had not been of the best.

Their staff were always punctual, carried out a first class job with the very best materials and were very pleasant to boot: a genuine pleasure to have around!

I have every confidence in the quality of their workmanship and will most definitely be using them for any future roof work and maintenance.

It is not often that you come across a company that is so committed to the quality of the service and work they provide: Shepherd Roofing are one of these
John Smith






26th February 2022
Value of Products/Services or Work Performed: £25,000+
Ratings
Review Comments
We've had work done over the last 7 weeks on our newly acquired 200 year old sandstone cottage included new slate roofs, new cast iron guttering, a flat root and significant amount of lead work.

The quality of the work done by Shepherd Roofing & Slating and their attention to detail was excellent.

Martin and the guys worked hard even when the weather was poor. They cleared rubbish away and even helped to clear some extra waste we had around the place left by previous contractors.

The communication from the team was excellent throughout. Martin provided the best solutions and and supplied high specification of materials and finish that we requested to solve the issues we were having with our roofs. Martin also advised on issues we have with the older roofs on our property and we will definitely have him back in the future to deal with those.

There are likely cheaper companies that will work on your roof but the extra quality and expertise from Martin and his team is definitely worth paying extra for based on my experience of the work they did for us.





Stuart Smith






19th October 2021
Value of Products/Services or Work Performed: £1 - £1000
Ratings
Review Comments
Slate replaced, work done efficiently and well. Price reasonable. Workmen courteous and friendly.
bill meikle






16th March 2021
Value of Products/Services or Work Performed: £1001 - £5000
Ratings
Review Comments
Contacted Shepherd roofing, due to positive online reviews. Craig came out to look at the roof and discussed how he would repair it, he wasn't offering to 'patch it' which made us immediately feel comfortable about the standard of work he carries out. We came back to him a few weeks later to go ahead with the work, and although Craig was busy, he squeezed us in as the roof was letting in water. The work was being done for my dad who was unwell, and Craig's workers were nothing but professional and friendly with him. We had a slight delay in making payment due to my dad being hospitalised, but that was not an issue and Craig was very understanding. Would happily recommend without hesitation.





9th December 2020
Value of Products/Services or Work Performed: £5001 - £25,000
Ratings
Review Comments
The company replaced guttering and fascias.
They arranged a date for the work, and came on that date. They kept us well informed throughout and advised us of additional work required . The product used was of a high standard and they had great attention to detail.
J.Duncan






16th June 2020
Value of Products/Services or Work Performed: £5001 - £25,000
Ratings
Review Comments
In the bad weather of January/February 2020, we had a really tough time. We have a flat roof which sprung multiple leaks in multiple places: down the wall in the dining room, dripping down plaster in the kitchen, leaking around electric circuitry in the kitchen light (causing me to blow the power in the house). It got to a point I was scared to come home while it was raining, as I didn't know what I would come back to.

I got in touch with Shepherd Roofing, and Craig came round for a quote. I get home late from work, so the time I suggested was massively inconvenient, yet he agreed - I didn't know it then, but this was the first sign of how Shepherd Roofing run their business; putting the customer first, always.

After the quote, I decided to get in touch with a few more companies, but on February 10th the drain on the flat roof froze and no water could escape the flat roof, leading to massive leakage into the house. I texted Craig in a panic, stating that we need work as an emergency, and he and James were round the next day. They managed to clear the pipe (not part of the job description!) and immediately did a temporary fix on the roof. I also asked them to put holes in the ceiling, which they did for me, to allow the water to drain from between the flat roof and the ceiling - again, not part of the job description, but they were consistently happy to go above and beyond for me.

Despite how busy they must have been at that time of year, they considered my case a priority, and over the next week or so were out as much and often as weather allowed. As a first time home owner, I expected to be more or less kept out of the loop and allow them to do what they needed, but Martin and Craig told me what was happening and what the next steps were every step of the way. They told me the issues with the roof, and why the leaks were happening, as well as how these issues would be resolved.

Every member of the team spoke to me and treated my home with respect, good humour, and conscientiousness. Their communication, too, was second to none. Craig would always tell me if they were able to come out or not in the cold February wind, and also allowed me to keep him updated on the leak situations during the completion of the job when they were not around. He was very reassuring, kind, and compassionate.

I have left it a while to write a review to make sure the roof is standing up to harsh weather. We have had all kinds of rain since February, and I am pleased to write that we have had no more water ingress at all. Shepherd Roofing are a fantastic family company with expertise in spades, the best materials for the job, and pride in their work; and they don't only just care about what they are doing, but the person that they are doing it for, and are not afraid to go the extra mile for either. They are a group of genuinely wonderful individuals who can't do enough to help, and were a joy to work with. I would recommend them any day, all day.
Jesse Smith






29th December 2019
Value of Products/Services or Work Performed: £3
Ratings
Review Comments
Industrial roof repair carried out to high standard, pleasurable and professional experience from start to finish





28th December 2019
Value of Products/Services or Work Performed: £1 - £1000
Ratings
Review Comments
Got Shepherd Roofing to replace my gutters, couldn't of asked for better quality of workmanship, job was done in good timing and to a high standard.





23rd December 2019
Value of Products/Services or Work Performed: £6,000
Ratings
Review Comments
Had my whole roof replaced. The service from Shepherds was informative and very professional from start to finish. The team worked hard and advice was given along the way. I would highly recommend Shepherds roofing to anyone as they did a fantastic job, we're on time every day , kept to the schedule , kept the area clean and tidied up each day. I fully trusted their professionalism and skills. Scaffolders were excellent also. I was very happy with the service and skills provided.
Amanda






22nd December 2019
Value of Products/Services or Work Performed: £1001 - £5000
Ratings
Review Comments
We had a leak in our roof which required replacement tiles and flashing. Shepherd roofing came quickly assessed what was required and gave us a price the next day. Due to the likelihood of the damage spreading they gave us a date about a week hence and although they had to delay by a day due to another job overrunning they informed us of the delay and did start on the rescheduled day. They were very professional, tidy, (and courteous) throughout the whole job & tidied up at the end removing all debris & waste. The bill was submitted exactly as quoted with no additions. I recommend Shepherd Roofing for their swift action & professionalism and would use them again.
Martin






20th December 2019
Value of Products/Services or Work Performed: £1 - £1000
Ratings
Review Comments
Leadwork repair to the chimney at side of the property. Very professional and the workmanship was carried out to the highest quality
Mr Ian Inglis