Case Study - GW & JS Construction Ltd
Tuesday 04 September 2018

GW & JS Construction Ltd is an Edinburgh based roofing company owned and operated by Guy Wright & Jason Staines. They started the company in 2014 after gaining 25 years' experience in the roofing industry.
Guy and Jason were early applicants to Edinburgh Trusted Trader, helping launch the scheme in June 2015. The key draw was the vetting process by Trading Standards and Police Scotland. According to Jason,
"Trust is a big part of resident's decision making when choosing to employ local traders, we felt this scheme was what people needed to have confidence in choosing reputable tradespeople."
"The vetting process was straightforward but thorough and rigorous enough to provide reassurance to the public."
"Membership has been a major boost for our business with increased leads and secured work"
After being members of Edinburgh Trusted Trader since 2015, we wanted to know if membership had met or exceeded Guy and Jason's expectations?
"We attribute much of our work through the membership, from direct website work requests and phone calls. The heightened enquiry level and works being awarded through the scheme enable us to spend less on advertising elsewhere."
Marketing is an important aspect for any business, so we were interested to understand if their Trusted Trader status was reflected in any of their marketing activities.
"We are very keen to display our status as well as customer reviews, so we have featured the review widget and logos on our website, as well as use the logo on our stationery and vehicles. We always request customer feedback and reviews from customers, using the review link when we can, but also send out the supplied review forms."
We asked for some frank and honest feedback about the Trusted Trader team, scheme, website or any problems or issues they have had.
"The Edinburgh Trusted Trader website is user friendly and easy to navigate; and we have spoken to the admin team a few times for advice or ordering new stationery, who are always happy to help. We think the scheme is going from strength to strength with no criticisms or improvements required."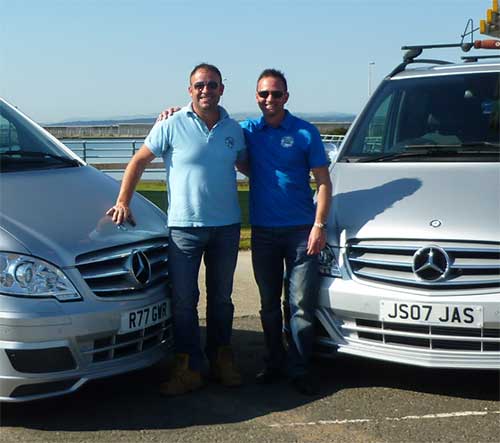 Finally, we asked Guy and Jason to sum up their membership on Edinburgh Trusted Trader:
"We were privileged to be asked to help originally launch the scheme and feel that membership has been a major boost for our business with increased leads and secured work. We look forward to continued success in the future and thanks for everything they have done to help us develop."
Guy Wright & Jason Staines
GW & JS Construction Ltd