JSJ Foam Insulation Ltd





4.9

out of

5

based on

28
reviews and feedback
Trusted Trader since 2019
JSJ Foam Insulation Ltd
9 North Kirklands, Holehouse Road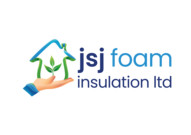 Eaglesham

G76 0JF

01355 303645
07734 812 391
Business Information
WHY WE ARE DIFFERENT

JSJ Foam Insulation Ltd is a family run business based in Eaglesham, Glasgow. Using our 30 years of experience in the construction industry, our commitment to you is to advise you correctly and guide you step by step through the process of choosing the correct product for insulation your property. Icynene is a first-class insulation product, it is fast, cost-effective and an efficient solution for both thermal and acoustic insulation needs.

Our staff are very passionate about our quality of work, safety is paramount with protection not far behind. Taking much pride from our initial contact with you to your completed project, we work harder each day to build on our excellent reputation since 1989. Our challenge is to exceed your expectations by maintaining word of mouth recommendations... What better advertising can you get!! When you are choosing who to insulate your home, choose JSJ Foam Insulation Ltd, there is a difference.

JSJ Foam Insulation is delighted to announce we have achieved the highest certification available PAS2030:2019/PAS2035 through Ocean. This certificate allows us to install Icynene Spray Foam Insulation into roofs, walls, and under floors for The Home Energy Scotland Loan.

As with any home improvement project, it is essential that the installer carrying out the work has been fully trained to do so, and they are fully accredited to give you the peace of mind that the job will be done correctly.
In addition, you also need to be sure that you have someone to turn to if, in an unlikely situation, a problem does arise.

JSJ Foam insulations are an approved Icynene installer and an accredited member of Quality Mark Protection for the home improvement industry. We offer a 25-year warranty on our products and a two-year guarantee on our install.
Trader Map Location
Videos
https://youtu.be/3GpBNitHJ0A
Icynene open cell foam with expands 100 times it's volume to seal all air passages.
Which insulation product will you choose?
There are many different options for insulation your home, work environment, commercial buildings etc. Not all options will achieve airtightness for you. Please also consider the supplier, experience is priceless.
Snap shot of install process
Icynene open cell foam insulation being installed in a new build property.
Underfloor insulation
In this install, we insulated the floor by stapling a breather membrane to the joists and spraying down onto it. If you have enough access underneath your floor, we can crawl under your floor and spray up onto your floorboards.
JSJ Foam Insulation Knowledge video
The perfect explanation of Icynene Spray Foam Insulation installed as standard by JSJ Foam Insulation Ltd. Come direct to an accredited Icynene Installer, we don't work with any third parties or sales agents.
Reviews and Feedback





4.9

out of

5

based on

28
reviews.
Order by:





21st September 2022
Value of Products/Services or Work Performed: £1001 - £5000
Ratings
Review Comments
A welcome change to find a well run and professional company with 1st class workmanship, a pleasure to do business with, politeness and courteous, thank you





28th March 2022
Value of Products/Services or Work Performed: £1001 - £5000
Ratings
Review Comments
As a Chartered Building Surveyor accredited in conservation I was keen to see how this would work out. I had done my homework first, as you might expect.

JSJ Insulation injected Icynene insulation into the gap between the lath and plaster internal linings (strapping) of the external walls and the stone walls in my Listed house. It's quite a skilled operation and potentially messy so a lot of the work was in the preparation which they did with great care and attention to detail.

Then they pumped the foam down pipes from the lorry in the street and jetted it into holes that they formed in the lath and plaster. The foam is under great pressure and sets instantly so they monitored where it was going with an infrared heat camera to make sure they left no gaps.

Jamie, Marc, Gary & Josh who did the work in a very full-on day were friendly, highly professional, hard working, obliging and ready to answer questions intelligently. They are also very skilled. At the end of the day they cleared up thoroughly and when the furniture was back in place, apart from a redecoration exercise yet to come, you would not know that such an invasive operation had taken place.

How well has it worked? I have no idea. The weather has been unseasonably hot and sunny ever since, but I expect it to have been transformative.


David Gibbon






18th March 2022
Value of Products/Services or Work Performed: £1001 - £5000
Ratings
Review Comments
I would like to thank Susan and everyone at JSJ foam insulation for work carried out in my loft this week.Both men arrived at 8am sharp and before starting work in the loft they covered my stair carpet to avoid any mess or damage which really Impressed me.
I am very pleased with the final result and my loft looks very tidy now that all the old felt has been removed.
I would have no hesitation recommending your company.
Anne






14th March 2022
Value of Products/Services or Work Performed: £1001 - £5000
Ratings
Review Comments
We had our loft insulated by JSJ in the summer. It seemed worth waiting until the winter to review the product. My last two gas bills have been lower that the same months in 2021 and 2020 and that is surprising as the cost of gas has increased so much. It seems that the foam insulation is working really well and will save me a lot of money over the years.
I was impressed by the company, the emails correspondence was quick, accurate and professional. The surveyor was good and made sure he checked everything. The two men who applied the insulation were good, they worked well and cleaned up after they had finished. I would recommend this company.
John




26th February 2022
Value of Products/Services or Work Performed: £1001 - £5000
Ratings
Review Comments
Actual product cannot complain. The use of material to protect windows was certainly not suitable. When the protective covering was removed from windows and doors the adhesive had really stuck to windows and could not be removed easily. Contacted Jsj Foam Insulation and they sent down an employee to remove adhesive with blade of a stanley knife. As a result - scratches all over windows. Contacted again and assured us they would not cash our cheque until we were satisfied - cheque presented to their bank that day and cashed next !! Jsj Foam arranged for a firm of glass repairers to come out and remove scratches. They duly arrived buffed where they thought scratches were and left. Result - dull patches on windows and doors as well as scratches. To be fair was a horrible wet day and couldn't see very well. Contacted Jsj foam again said they would get glass repairer to come out again. Duly arrived but after several hours stated he could not do any more for me. No response since from Jsj Foam. Outcome - will need to replace glass in some windows and a door.
Moderator Response
Business Response: The product that we used for protection is suitable for the purpose. On the night of completion, the customer asked for us to leave the protection on the windows, which we did. I believe it was left on for 5-6 days before being removed. The weather was cold and unfortunately I believe because of this, some glue was left on the windows. If we had removed the protection after install, no glue would have been left on the windows.
The customer whats app me and brought the glue situation to my attention. I called the customer and quickly arranged for Marc our surveyor to revisit the job to action this. I have a paper trail of communication to prove how quickly we reacted. On Marc's arrival before starting to work on the glue, he brought to the builders attention that there was scratches on the glass of the door and on the door handle. Marc never checked the other windows. Marc continued to remove the glue and the customer seemed happy at the end of the day. We were then informed at a later date that the extension windows had scratches on them. Marc called the builder personally to highlight the conversation they had, the builder won't acknowledge this conversation! Not knowing who was at fault (the builder or Marc) we arranged for a glass company to go out and buff out the scratches. Unfortunately there is no way of proving who is at fault, but we acted accordingly as there is no fight at our end. An error has happened and it needs sorted. Where the scratches there before hand like on the door handle and the glass window? I have not shied away from this situation in anyway, the customer has refused to take my call but feels it's acceptable to send me threatening whats app messages. This is not how we conduct ourselves as a company.





20th January 2022
Value of Products/Services or Work Performed: £5001 - £25,000
Ratings
Review Comments
Just a great experience from start to finish. Susan and Jim explained the process in lots of detail and were able to phase their work to suit our evolving programme. I can't speak highly enough of them and their site team. Our entire house is now insulated and the difference is amazing.
David Cartmell






20th January 2022
Value of Products/Services or Work Performed: £1001 - £5000
Ratings
Review Comments
An excellent job. Effects of which were felt within hours. The team arrived at the stated time and got down work immediately. They were polite and friendly throughout and took every precaution to ensure minimum disruption to the house while they worked. Effective and efficient job. Well done boys.
David Burgess






30th June 2021
Value of Products/Services or Work Performed: £1001 - £5000
Ratings
Review Comments
Great job , well done and timeously and very helpful explaining best practise and advantages to client .
J g scott






29th June 2021
Value of Products/Services or Work Performed: £5001 - £25,000
Ratings
Review Comments
Room in roof foam insulation and floor insulation. From they very first call with JSJFoam with Susan very helpful and and very professional. On the day of the work being carried out all stair carpets covered in plastic to protect the furnishings. Excellent job from JSJ team from start to finish very professional and it was a pleasure to have them insulate my house.
John kermack






27th November 2020
Value of Products/Services or Work Performed: £1001 - £5000
Ratings
Review Comments
Great communication with Susan and the team.
I would highly recommend JSJ foam insulation very professional and a great price very tidy workmanship 10/10
Elizabeth James






26th September 2020
Value of Products/Services or Work Performed: £1001 - £5000
Ratings
Review Comments
I've been a builder for over 30 years and this is my first time to use JSJ foam insulation and I couldn't be more pleased with the results.
I've dealt with Susan from before lockdown and was kept up to date with everything during a testing time for all .
Last Thursday the van arrived at my house and Gary and Jamie introduced themselves and went straight to protecting all the floors and furnishings. They did a great job throughout the day and cleaned everything up before they left . I couldn't be more impressed so well done lads .
I've installed Kingspan etc for many years and the cost to my clients to have it installed never mind the cost of the labour has been a large chunk of the budgets and it took up loads of time delaying the jobs.
But now I will be recommending JSJ for future projects as it's very cost effective, great product and a great team to be dealing with .
So well done to Susan, Gary, Jamie and all the team . Well done


Andy Mcgrath






14th August 2020
Value of Products/Services or Work Performed: £1001 - £5000
Ratings
Review Comments
After researching a whole load of insulation options I felt open cell spray foam would be the best and most effective solution for my (very old) roof space.

From the initial survey I got a good feeling about JSJ and I wasn't disappointed. The service from Susan and Jim has been absolutely excellent. Susan is totally customer focused and her communication was faultless and I appreciated all the advice from both her and Jim, who spent the time and put up with a lot of questions from me.

My main roof space was insulated and as the roof may need to be replaced in the future, the solution was to fit membrane (which JSJ kindly sourced for me) on the inside before spraying so the insulation would not be disturbed down the line.

The guys who were spraying on the day (Gary, Gary & Jamie) were friendly and great workers - I don't think they stopped all day. They did a great job including preparation and clear up and dealing with a couple awkward areas on the day with no hassle. Jim was there to setup and check I was happy at the end. My experience with Jim & Susan is that they are honest, reliable, friendly and professional. The whole experience was a pleasure and I'm more than happy to recommend the JSJ team to anyone else I know who's looking to insulate and I'm looking forward to seeing/feeling the benefits properly. I'll be using them again to do my adjoining roof at the next stage of renovations.
John McGill






13th August 2020
Value of Products/Services or Work Performed: £5001 - £25,000
Ratings
Review Comments
I had a problematic build and was let down by trades that had a last minute impact on JSJ they responded instantly and rescheduled me several times until Jamie and Craig came and did a great job in the time specified and left the very awkward work area clean and tidy. Looking forward to getting the next phase carried out.
Paul Taylor






13th August 2020
Value of Products/Services or Work Performed: £1001 - £5000
Ratings
Review Comments
Ours was a challenging job, 1890s solid stone built double upper villa with rooms in the partially flat roof. JSJ prepared a detailed plan and quotation, carefully analysing where problems could come up, and advising which sections could be done with the plasterwork intact, and which should be stripped out to prevent future problems. They were very easy to deal with, and were able to accommodate some last-minute changes we had to make, including splitting the job into two parts. The end result was a property that immediately felt quieter and warmer.





13th August 2020
Value of Products/Services or Work Performed: £5001 - £25,000
Ratings
Review Comments
As great believers in sprayed insulation for our log houses, we had a problem when our usual contractor was taken ill. We looked for alternatives and found JSJ Foam. I spoke to Susan who was very helpful and shortly afterwards Jim came down to our site, which is some 85 miles South on the Solway coast. He saw the job and discussed our requirements and we received a quotation by return. This was acceptable and they came down a week later to spray. The team of Jim and his 2 assistants, Craig and Jamie, then worked tirelessly for just under 3 days until the whole house was completely sealed with 150mm of foam. On the last day Susan came to help tidy up and bag all the offcuts of foam
(a major job!) and load them into their vehicles for removal. At the end everything was left clean and tidy.
Overall the team of Jim and Susan each have their own jobs in the business and Jamie and Craig work tirelessly to get the job done.
Thank you.





Frank Gourlay






13th August 2020
Value of Products/Services or Work Performed: £1001 - £5000
Ratings
Review Comments
Underfloor insulation of c1935 semi detached lower villa.
A fantastic experience from start to finish.The info given and the survey carried out promptly made me comfortable to trust this company and go ahead with the insulation work.The insulation team arrived on schedule and worked efficiently to complete the underfloor treatment whilst respecting my and the neighbours property.The house was left clean and tidy and the benefits are already apparent.I wish this had been carried out years ago. I have no hesitation in recommending the workmanship of JSJ Foam Insulation LTD.
John Borthwick






7th February 2020
Value of Products/Services or Work Performed: £1001 - £5000
Ratings
Review Comments
Work done I was looking more for sound proofing than heat or cold JSJ applied approx 200mm straight onto concrete as a sound barrier made a big difference to bedrooms above , Jim and the boys came to site which was challenging in itself as there was not a lot of space to work they set up and got on with the job finished and cleared the site, the guys were easy to deal with civil and gave me no problems which as a site foreman is important to me would definitely recommend them and I will be using them in the future on other projects W Gibson
W gibson






6th October 2019
Value of Products/Services or Work Performed: £1 - £1000
Ratings
Review Comments
I had under floor foam insulation done. It has made a huge difference, my house holds the heat for hours. Anyone who has a suspended ground floor will know the problem with dust in your house well. This product will completely stop any dust getting into your home. Very good company, would recommend JSJ to anyone. Thanks.
Malcolm






5th October 2019
Value of Products/Services or Work Performed: £1001 - £5000
Ratings
Review Comments
We have had the Icynene foam insulation completed on Friday 04/10/19. The job was done professionally by both Jim and Grant. Everything promised was done. Seems excellent product, I don't think my heating has come on since they left which is great. Please don't be fooled by other salesmen out there trying to get you to sign up for an astronomical cost. I was given a quote by another company for 12 months which was going to be over £7000 but JSJ Foam Insulation was around 70% cheaper. Very friendly company, all carpets etc covered with protective wrap and cleared up all mess after job was complete. One very pleasing part was at the end of the job I was invited up the loft to see complete job by Jim and was talked through everything covered. I cant recommend this company enough for any insulation issues you may have. Jim, Grant and Susan it was a pleasure to meet you and have you in my house completing the job to the high standard you did. Anything I have issues with going forward with insulation etc I will definitely use your company. I am happy for anyone in the West Lothian area who would like to see the job complete are welcome to come and have a look no problems.
David Miller






4th September 2019
Value of Products/Services or Work Performed: £1001 - £5000
Ratings
Review Comments
JSJ installed Icynene foam into our dry-lined walls. The team carefully inspected and measured up prior to the work. They pointed out where the foam product would be best used and where its use would be less beneficial. I was impressed by their honesty and integrity.

During the work they were very thorough and professional throughout and nice people to deal with. We were very pleased with the result and wouldn't hesitate to recommend them. We are also keen to use them again for some additional work in another part of the house.