Renfrewshire Trusted Trader joins trustedtrader.scot
News: Friday 29 June 2018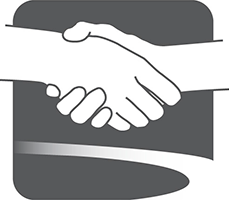 On 29 June 2018 the Renfrewshire Trusted Trader scheme officially moved over from the Renfrewshire Council website to the trustedtrader.scot platform:
www.trustedtrader.scot/Renfrewshire/
The Renfrewshire Trusted Trader scheme was launched in March 2012 and expanded to East Renfrewshire in 2014, initiated by the Council to help local customers find reliable local traders. This in turn, helps quality local traders generate more business.
Key aims for the scheme are to:
increase consumer confidence
promote good practice within local businesses
help prevent doorstep crime.
The trustedtrader.scot platform was originally set up to host the Edinburgh Trusted Trader scheme and has now been expanded to include neighbouring schemes. This brings the benefits and cost savings of a centrally managed website whilst maintaining individual scheme independence and local Trading Standards support.
The Renfrewshire Trusted Trader logo remains exactly the same, utilising the standard Trusted Trader handshake in the familiar Renfrewshire grey. The website is using the turquoise colours from the Council colour palette, which goes well with the grey logo. This will reassure local residents and consumers who are used to seeing the familiar Trusted Trader logo.
Trader page information
Trusted Traders now have a dedicated page to promote their services and show examples of work, as well as display reviews. Residents can easily contact traders via secure website contact forms or on the phone. Residents can also leave electronic feedback for a trader, via an easy to use online form.
But traders can still issue and utilise paper copies of the review forms and Freepost envelopes for those customers that prefer this method of leaving a review.
New Trusted Trader consumer line
Renfrewshire residents now also have access to the Trusted Trader consumer helpline:
0131 513 9921
. This is aimed at those with little or no access to a computer do if you call this number, an operator will help you find a Trusted Trader. Please pass this number on to any family or members of the community who you think may benefit.
About Renfrewshire Trusted Trader
Renfrewshire Trusted Trader is a collaboration between Renfrewshire Council, Renfrewshire Trading Standards, Ombudsman Services and Trusted Directory Services (TDS).
The Council back and oversee the scheme, with the vetting process carried out by Trading Standards' Officers. Trading Standards also ensure traders adhere to the Code of Practice and will intervene in disputes when required.
Ombudsman Services allows impartial adjudication when a dispute arises between consumer and business and can be settled outside of court. TDS is responsible for scheme administration, customer service and website support.
To learn more about the scheme or enquire about joining, please visit:
www.trustedtrader.scot/Renfrewshire/