Hollywood Roofing Contractors Ltd





5.0

out of

5

based on

7
recent reviews and feedback
Vetted Fife Trusted Trader since 2014. This member had many reviews prior to April 2018, confirmed by Fife Trading Standards.
Hollywood Roofing Contractors Ltd
4 Melrose Crescent, Kirkcaldy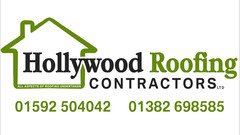 Fife

KY2 5BN

01592 504042
07709 602 012
Trader Categories and Services
Roofing Services
,
Slating & Tiling
,
Lead Roofing & Flashings
,
Single Ply Roofing
,
Flat Roofing
,
Chimney Repairs
,
Roofers
,
Roof Slate & Tiling
,
Lime Mortar Pointing
,
UPVC Fascias
,
Guttering Services
,
Property Maintenance
,
Chimney Builders
,
Emergency Roofing Repairs
,
Rope Access
,
Tiling Contractors
,
Roughcasting
Trade Associations
Business Information
Hollywood Roofing is a highly-efficient, reliable roofing company based in Kirkcaldy, Fife and Dundee founded by John Hollywood.

We cover Dundee, Edinburgh, Glasgow, Perth, Aberdeen, Fife and all surrounding areas. We provide an extensive, high quality service in and around the country. All our workmen are fully qualified in all types of roofing including SVQ level 3 whilst also being CSCS registered with all associated documents. All of our tradesmen are dedicated to achieving the highest standards of workmanship therefore you are guaranteed to receive an expert, committed service from them.

We are one of Fife's most trusted companies with the result that our customers are always either coming back to us for our efficient, reliable services or passing on the word to their friends and family. We provide only the best quality materials for your roofing work to ensure a longer lasting roof.
-------------------------------------------------------------------------------------------------------------------------
We are registered and qualified in installation of Singleply Armourplan and hydrostop AH25 waterproofing system and are recognised as a SIG Design & Technology Accredited Contractor, giving you full piece of mind for your installation.

Once we have completed installation, a member of the SIG Design and Technology team will come to probe the roof to ensure it is sealproof to there standards, and any remedial action will be carried out by our team if required.

As an added security for the work undertaken, all work that is carried out comes with a manufacturers of 15 or 25 year guarantee depending on which choice of Armurplan you select.
Social Media
Share this traders details on social media.
Trader Map Location
Reviews and Feedback





5.0

out of

5

based on

7
reviews.
Order by:





13th March 2019
Value of Products/Services or Work Performed: £1 - £1000
Ratings
Review Comments
Tiles replaced and gutters cleared. Fast and friendly family business, I will definitely use again.
A McGillivray






27th February 2019
Value of Products/Services or Work Performed: £1001 - £5000
Ratings
Review Comments
Hollywood Roofing Contractors were our saviours after they came to repair part of our roof after we had been severely misled by a one-man roofing contractor.
We emailed Hollywood Roofing Contractors via this website explaining the problem late one night and early the following morning, John Hollywood phoned to ask if he and his team could come round to assess the problem and provide a quote.
They came within the hour and provided us with a very reasonable quote that detailed exactly what work was required and how much each aspect of the work would cost.
John and his team proved themselves to be very polite, friendly, reliable and expertly knowledgeable in their work which they completed to the highest of standards.
We would highly recommend Hollywood Roofing Contractors and they are our first choice for any future roofing work.
Sylvia & David Simpson






9th October 2018
Value of Products/Services or Work Performed: £1 - £1000
Ratings
Review Comments
Mr Hollywood was extremely busy after storm Ali but managed to attend my home within 24 hours after my slates and facia had been blown off and made a temporary repair.
He had a bit of a problem sourcing material to do the permanent repair but once he did the repair was done quickly and efficiently.
He and his workforce well very polite and courteous.
I would recommend his company to others.
Spence






19th September 2018
Value of Products/Services or Work Performed: £1 - £1000
Ratings
Review Comments
I called Hollywood Roofing about a gap in my garage guttering. He came round when he said he would. His team fixed the problem there and then and cleaned out the gutter, at my request, of leaves, moss and debris. He then said there would be no charge as it had been a five minute job.
Mr Hollywood is a breath of fresh air in the roofing 'underworld'. He restores one's faith in humanity. If your flat was on fire and you needed his help, he'd be there to rescue you in his cherry picker before the fire engines arrived.
His company is now my first choice for any further remedial work needed in future.
Elizabeth Stuart






9th September 2018
Value of Products/Services or Work Performed: £1 - £1000
Ratings
Review Comments
Very efficient service. Very small job at short notice, pleasant to deal with.





16th August 2018
Value of Products/Services or Work Performed: £0
Ratings
Review Comments
I called Hollyrood Roofing when it was a wet day and we had just discovered a large leak coming through into the roof space. They arranged to come around the same day and were able to identify where the leak was coming from (2 cracked tiles on the roof) and replace them. All took about 30mins and they also took time to check over the roof from ground level to see if there were any other possible problems.
Very efficient, polite and effective. They did all this whilst it was still a wet day.
When I asked about payment, they explained that it was a small job and they wouldn't charge for it. Totally recommend for anyone in the future - will be going back if I have any further problems.
Mark Johnston






3rd May 2018
Value of Products/Services or Work Performed: £1001 - £5000
Ratings
Review Comments
The quality of work was exceptional; transformed the look of the house. Tradesmen always tidied up each day. On the last day of work, they hosed down all areas affected with dust including the road.