JSJ FOAM INSULATION LTD





4.9

out of

5

based on

11
reviews and feedback
Trusted Trader since 2019
JSJ FOAM INSULATION LTD
9 North Kirklands, Holehouse Road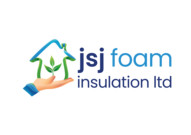 Eaglesham

G76 0JF

01355 303645
07734 812 391
Business Information
WHY WE ARE DIFFERENT

JSJ Foam Insulation Ltd is a family run business based in Eaglesham, Glasgow. Using our 30 years' experience in the construction industry, our commitment to you is to advise you correctly and guide you step by step through the process into choosing the correct product for insulation your property. Icynene is a first class insulation product, it is fast, cost effective and an efficient solution for both thermal and acoustic insulation needs.

Our staff are very passionate about our quality of work, safety is paramount with protection not far behind. Taking much pride from our initial contact with you to your completed project, we work harder each day to build on our excellent reputation since 1989. Our challenge is to exceed your expectations maintaining word of mouth recommendations... What better advertising can you get!! When you are choosing who to insulate your home, choose JSJ Foam Insulation Ltd, there is a difference.

As with any home improvement project, it is essential that the installer carrying out the work has been fully trained to do so, and they are fully accredited to give you the peace of mind that the job will be done correctly.
In addition, you also need to be sure that you have someone to turn to if, in the unlikely situation, a problem does arise.

JSJ Foam Insulation are an approved Icynene installer and an accredited member of HICS Consumer Protection for the home improvement industry. We offer a 25 year warranty on our products and a two year guarantee on our install.
Social Media
Share this traders details on social media.
Trader Map Location
Videos
https://youtu.be/3GpBNitHJ0A
Icynene open cell foam with expands 100 times it's volume to seal all air passages.
Which insulation product will you choose?
There are many different options for insulation your home, work environment, commercial buildings etc. Not all options will achieve airtightness for you. Please also consider the supplier, experience is priceless.
Snap shot of install process
Icynene open cell foam insulation being installed in a new build property.
Underfloor insulation
In this install, we insulated the floor by stapling a breather membrane to the joists and spraying down onto it. If you have enough access underneath your floor, we can crawl under your floor and spray up onto your floorboards.
JSJ Foam Insulation Knowledge video
The perfect explanation of Icynene Spray Foam Insulation installed as standard by JSJ Foam Insulation Ltd. Come direct to an accredited Icynene Installer, we don't work with any third parties or sales agents.
Reviews and Feedback





4.9

out of

5

based on

11
reviews.
Order by:





6th October 2019
Value of Products/Services or Work Performed: £1 - £1000
Ratings
Review Comments
I had under floor foam insulation done. It has made a huge difference, my house holds the heat for hours. Anyone who has a suspended ground floor will know the problem with dust in your house well. This product will completely stop any dust getting into your home. Very good company, would recommend JSJ to anyone. Thanks.
Malcolm






5th October 2019
Value of Products/Services or Work Performed: £1001 - £5000
Ratings
Review Comments
We have had the Icynene foam insulation completed on Friday 04/10/19. The job was done professionally by both Jim and Grant. Everything promised was done. Seems excellent product, I don't think my heating has come on since they left which is great. Please don't be fooled by other salesmen out there trying to get you to sign up for an astronomical cost. I was given a quote by another company for 12 months which was going to be over £7000 but JSJ Foam Insulation was around 70% cheaper. Very friendly company, all carpets etc covered with protective wrap and cleared up all mess after job was complete. One very pleasing part was at the end of the job I was invited up the loft to see complete job by Jim and was talked through everything covered. I cant recommend this company enough for any insulation issues you may have. Jim, Grant and Susan it was a pleasure to meet you and have you in my house completing the job to the high standard you did. Anything I have issues with going forward with insulation etc I will definitely use your company. I am happy for anyone in the West Lothian area who would like to see the job complete are welcome to come and have a look no problems.
David Miller






4th September 2019
Value of Products/Services or Work Performed: £1001 - £5000
Ratings
Review Comments
JSJ installed Icynene foam into our dry-lined walls. The team carefully inspected and measured up prior to the work. They pointed out where the foam product would be best used and where its use would be less beneficial. I was impressed by their honesty and integrity.

During the work they were very thorough and professional throughout and nice people to deal with. We were very pleased with the result and wouldn't hesitate to recommend them. We are also keen to use them again for some additional work in another part of the house.





31st August 2019
Value of Products/Services or Work Performed: £1001 - £5000
Ratings
Review Comments
Flat insulated.
I would certainly recommend JSJ Foam Insulation as they are nice and pleasant people who provided an all round excellent service. My property is now warm, cosy, draft free and noise from the traffic outside has been reduced. Heating bills have reduced due to the property heating quicker and staying warm for longer. I am extremely happy with the product and service provided. Thank you again for a job well done.
Alison Bradley






30th August 2019
Value of Products/Services or Work Performed: £6,500
Ratings
Review Comments
We had roof insulation carried out on our main house and on an extension roof.
I was wary of waxing lyrical aboutthe insulation until I saw the new, almost instant, coziness translated into savings. Prior to the installation, my gas bills were literally through the roof and the top half of the house was very draughty. We had underfloor heating in one part of the house but, although it was toasty, the system was running almost constantly with the floor very hot at times. Now, after the foam insulation the temperature is as good but without the heat flying out of the roof and the floor is now a very comfortable temperature.
Next was the energy company; they refused to believe that my energy use had dropped by a whopping 50%. They sent someone to verify the meter readings before they would accept to credit my account by, wait for it, £700.
I apologised to JSJ foam insulation for the delay in giving feedback until now but I hope they don't feel that I was not totally satisfied with them or the concept of foam insulation. It is quick and clean to install and produces an instant increase in comfort.
They left the house clean and tidy and were courteous and professional to a fault.





30th August 2019
Value of Products/Services or Work Performed: £1001 - £5000
Ratings
Review Comments
We used JSJ Foam Insulation Ltd to insert icynene behind lath & plaster walls in a large gable-end tenement flat in Edinburgh. The work was done carefully and professionally and our tenants were very happy throughout the process. Happy to recommend.
Alistair Cant






30th August 2019
Value of Products/Services or Work Performed: £1001 - £5000
Ratings
Review Comments
Our house was built in 1897 and when we moved in the only insulation was on some cold water pipes in the back porch, there was no loft insulation.

When we commenced our house renovation achieving a high degree of insulation was a high priority. After a great deal of research we decided to create a warm roof so we could use the loft space for additional storage. Having considered all the options we chose Icynene foam to be installed by JSJ Foam Insulation.

When they first came my wife was very ill so we had to stop work before it was completed, leaving a few small areas to be completed at a later date. JSJ were extremely understanding and came back the following month to complete the job without charging extra, which was very much appreciated.

Over the following Winter the insulation proved to be extremely effective and Scottish Power estimated 30% less energy had been required to heat the house. This was despite the upstairs radiators being disconnected throughout the Winter as part of the renovation so the only heating needed was using the downstairs radiators. An even bigger indication of the effectiveness of the Icynene installation was that the log burner in the lounge wasn't lit once all Winter saving several hundred pounds in logs and we still have supplies left over from before the insulation was installed, possibly enough to get through the next Winter.

In the next few weeks JSJ will be installing more Icynene in a garage and workshop that's been added as part of the renovation. We had no hesitation in asking JSJ to do this next phase of the work and at some stage in the future they'll be asked to insulate under our ground floor and possibly behind the lath and plaster on the external walls.

It has been a pleasure using JSJ Foam Insulation. They proved to be extremely understanding during the loft insulation and took pressure off both my wife and I at a very difficult time. The work they did for us has proved to be extremely effective at cutting the heating bills and already turned a cold house into a very comfy environment even on the coldest days. A great company and their Icynene product is outstandingly effective when properly installed by such experts.





30th August 2019
Value of Products/Services or Work Performed: £5001 - £25,000
Ratings
Review Comments
JSJ Foam Insulation services have completed two seperate jobs for us. We live in a traditional bungalow and the first job was to insulate our loft and under flooring. A few years later we got an extension built and they came back to insulate the new build.
On both occasions l have been very impressed with the quality of work carried out, the product they use its environmental profile and the level of customer service they offer. They are a company that knows the true meaning of customer service!
I would have no hesitancy in recommending them, l already have, as they are a local company that know their product and they can be relied upon.

Excellent work, thank you.
Michael Marchand






19th August 2019
Value of Products/Services or Work Performed: £4,500
Ratings
Review Comments
I run my own Architectural Practice and researched various companies. But have used JSJ to apply insulation to roof spaces and walls on a Renovation Project of my own, finding both Principals (Jim + Susan) very attentive and helpful. The site operatives were polite and hard working. Most certainly will recommend JSJ to friends and Clients.
Thomas M Pyemont MCIAT






4th August 2019
Value of Products/Services or Work Performed: £1001 - £5000
Ratings
Review Comments
Based on recommendation from John Miller Construction, we approached Jim and Susan regarding underfloor insulation for our bungalow. The service from quote to completion was excellent; and the end result is simply fantastic. We have seen, heard and felt improvements:

1) visual - condensation on windows eliminated
2) acoustic - dampening with reduction in noise from central heating boiler (located below bedroom floor)
3) warmth - home heats quick and retains too.

Overall delighted with product and service. Would highly recommend worth every penny. Thank you.
Brad Scott